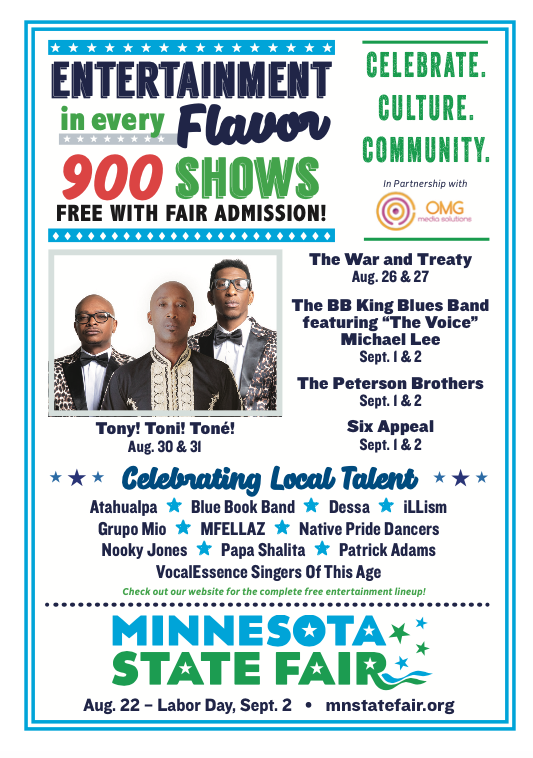 Taste of The War and Treaty #CCC2020
OMG Media Solutions Partners with the Minnesota State Fair to Celebrate Culture And Community At The State's Largest Food and Music Festival
In partnership with OMG Media Solutions, the Minnesota State Fair's celebration of culture and community keeps growing, bringing families and friends together to experience culture through food, music and exhibits.
Monique Linder, founder of OMG Media Solutions explained that the focus on showcasing local talent is a tribute to Minnesota history of legendary music.  In addition to enjoying an evening under the stars at a Grandstand concert, guests can also dance the day and night away with five stages of free entertainment all for the price of gate admission . . . seeing wonderful local artists performing at the Great Minnesota Get-Together is the greatest feeling ever," said Ms. Linder.
Presenting an entertainment lineup featuring a vast variety of genres – from R&B, classic rock, indie pop and funk to traditional dance, hip-hop and more – performed by artists well-known to the local community is an important goal of the State Fair. "This means there is something for everyone," Linder continued. "Families can come to the fair together, and every family member – across generations – can experience entertainment each individual prefers while enjoying food and exhibits together. This is an important cultural value and is critical to the guest experience at the fair."
"The partnership with OMG Media Solutions has been incredibly valuable to the Minnesota State Fair. Monique Linder's creative ideas and ability to connect with communities across the metro area has been a tremendous asset to our marketing efforts," said Renee Alexander, Deputy General Manager for the fair.
For a complete listing of free entertainment, go to: https://www.mnstatefair.org/free-live-music-and-shows/