Reflection from The Juneteenth Story Producer, Monique Linder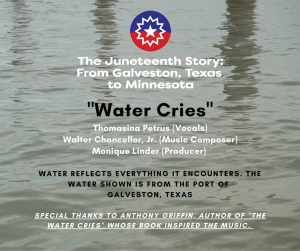 This year, Rose McGee of Sweet Potato Comfort Pie and I traveled to Galveston, TX to film this year's Juneteenth story from the place where it originated, and, to present the descendants of the enslaved ancestors of Galveston with a slice of heavenly sweet potato comfort pie, which you will experience this joy in the film.  We call Juneteenth our Independence Day.  Yes it is that.  Although, we felt Juneteenth did not emancipate us mentally from slavery, as many of the same systems that were created to protect slavery, are still in place today.  We've entered a period of "Reckoning" in our nation and after 400 years of not confronting slavery, we must not leave any stone unturned in teaching  future generations to always fight for their freedom.  
Our cultural films are meant to connect the past to the present to inform future generations.  Past films include:
Juneteenth 2022: A tribute to George Floyd (Ta-Coumba-Aiken/Kevin Lindsey) and Philando Castile (Seitu Jones / Valerie Castile. Soundtrack: Bells 4 Philando
Juneteenth 2021:  Confronting Slavery from the National Museum of Peace and Justice in Montgomery, AL.
Juneteenth Brunch 2022: Upholding Traditions: Black Women and Juneteenth with Angela Tate, Smithsonia National Museum of African American History & Culture (Smithsonian, Washington, DC) and Duchess Harris, Professor of American Studies at Macalester College.  
It is my hope that  you will watch this film with your family, especial youth, to connect the past with the present and to have conversation about always fighting for freedom and equality for future generations. Reading the book "Images of America . . . African Americans of Galveston" by Tommie D. Boudreaux and Alice M. Gatson will help you understand why it took 2 and 1/2 years for the enslaved captives of Galveston to be told they were free.  It was intentionally kept away from the enslaved people so that plantation owners could continue to profit from free labor.   This history can repeat itself if future generations are not educated about the past. We must never allow this wretched history to repeat itself.  
We are grateful to MN Humanities Center and Ujamaa Place for supporting our cultural films.  As our OMG Studios' cultural sustainability promise states:  "music and art are essential to human survival and development," it is our truth and belief that guides us when telling American history through cultural film-making, which would not be possible without the support from  community partners.  The creative music collaboration with legendary Jazz saxophonist Walter Chancellor, Jr. and the incomparable Jazz vocalist Thomasina Petrus produced the soundtrack for the film "Water Cries" reflecting how water takes on the color of its environment and its deep connection with the slave trade.  The song pays tribute to author Anthony Griffin's story of the slave warehouse in Galveston, TX in his new  book "The Water Cries."  You will feel the pain and struggle of our enslaved ancestors and the heart beat of Native Americans who here long before the arrival of the first slave ship in America.
Please send your comments and stories to me at: kzmoinfo@kzmohd.com.
Peace, love and enlightenment, 
Monique
At OMG Studios, our work is centered around building cultural sustainability, in which music and art are essential to human survival and development. We strive to empower communities through our OMGisms – social constructs rooted in the arts that nurture and improve the health and wellness of youth and families.  To learn more, click here.