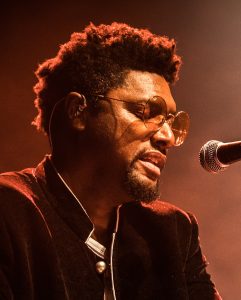 As a child growing up in the small town of Jefferson, Arkansas, music in the church touched my soul and inspired what would become a life-long passion. 
I majored in art at the University of Arkansas in Pine Bluff, but the lure of music would not be denied. So, I ended up 'faking' my way into a college band. I didn't know how to play very well, but when the band's other keyboard player quit, my desire and commitment, combined with my natural talent, helped me get hired even though I was not fully accomplished at the time.
After college, I continued playing in both church and anywhere else I could, moving from Chicago to Memphis to Austin in a short period of time. In Austin, with another musician, we created a band called "The Bizness." The bass player for Prince and the Revolution, Mark Brown, saw the band perform and invited us to Minneapolis to record a demo. Ultimately, I ended up joining Mark's band, Mazarati. The band did not stay together, but I decided to stick around in Minneapolis and began working with Mark Brown as a studio assistant. I co-wrote, co-produced and engineered tracks with up-and-coming star Shanice Wilson during this time.
I got my big break in 1991 when Jerome Benton asked me to play keyboards with Morris Day & The Time following the departure of Jimmy "Jam" Harris. They were big shoes to fill, but they were happy with my contributions, and later that year, I toured Asia with them.  At the end of the tour, I co-formed a band called "G Sharp & The Edge," which became the house band for Prince's new nightclub, "Glam Slam" in Minneapolis. Prince was so impressed that he asked the band to play with Carmen Electra as the opening act for his 1992 "Diamonds and Pearls" world tour.   After the tour, Prince asked me to play keys alongside Tommy Barbarella in his band "The New Power Generation." I would go on to be in the band for nearly 20 years and a number of years as Prince's Musical Director. (There were some Prince tours that I did not play on as I was also touring with Maceo Parker.)
I produced tracks for television and motion pictures, including Martin Lawrence's "You So Crazy," "According To Matthew," HBO's "Laurel Avenue," The NAACP Image Awards, as well as some commercial music for both Target and 3M Corporation.  In addition to Prince, The Time, Sheila E., and Maceo Parker, I have performed live with some of the greatest artists and musicians of our time, including Stevie Wonder, George Clinton, Chaka Khan, Whitney Houston, Herbie Hancock, H.E.R., Elton John, Amy Winehouse, Foo Fighters, Bono and the Edge, John Legend, Babyface, Teddy Riley, Carlos Santana, Patrice Rushen, Earth, Wind & Fire, Kenny Loggins, George Benson, Lenny Kravitz, Alicia Keys, Usher, Nicole Scherzinger, Will.i.am, Mary J. Blige, Janelle Monáe, Esparanza, Maroon 5, Doug E. Fresh, Questlove, Beck, Mint Condition, Sheryl Crow, Gwen Stefani, D'Angelo, Fred Wesley, Tori Kelly, Common, Larry Graham, Erykah Badu, Kanye West, Bill Banfield, Frank McCombs, Vernon Reid, Macy Gray, and many others. 
In addition, some of my most memorable performances are when we played at the historic Super Bowl Half-time Show with Prince and the New Power Generation in 2007. I was the Musical Director for the official Prince Tribute Concert in St. Paul, Minnesota, in October 2016, following the passing of my friend and musical mentor. Following that event, several of my former bandmates in the original configuration of the New Power Generation reunited to work together again. We have since performed worldwide, including headlining performances at the Montreux Jazz Festival, British Summer Time, Bluesfest in Australia, North Sea Jazz Festival, and in the fall of 2021.