Join the Minnesota Humanities Center for a Juneteenth breakfast celebration on Friday, June 17, from 8:30-10:30 a.m.
Musical guest Jevetta Steele will perform, followed by a talk by Angela Tate, curator of women's history at the Smithsonian's National Museum of African American History and Culture, who will highlight the role of women, and in particular Black sororities, in upholding Juneteenth traditions nationwide. Professor Duchess Harris from Macalester College will moderate a discussion.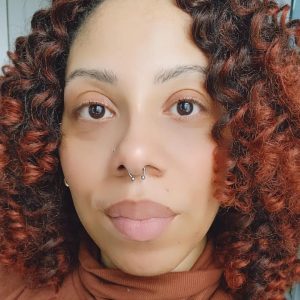 Angela Tate is women's history curator at the National Museum of African American History and Culture, through the American Women's History Initiative. Her work focuses on the African American story through the lens of women & gender, with a special emphasis on international affairs, activism, material culture, women's archiving, and critical family history. She is also a PhD candidate in History at Northwestern University (Evanston, Ill) and her dissertation focuses on Etta Moten Barnett's Chicago-based transnational radio program in the 1950s-60s.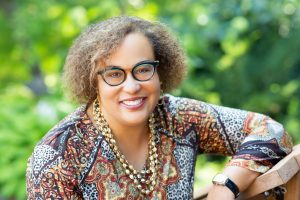 American Studies and Political Science Professor Duchess Harris is the recipient of the 2021 Thomas Jefferson Award. The award was established in 1961 by the Robert Earll McConnell Foundation to honor members of the Macalester community who exemplify the principles and ideals of the third President of the United States. Dr. Harris was selected by a committee of past Jefferson Award winners.  An interdisciplinary scholar of contemporary African American history and political theory, Dr. Harris' work has focused on events of Black political importance that have largely been ignored or neglected. She has authored, co-authored, or edited five academic books and numerous peer-reviewed articles and book chapters. Prof. Harris is particularly proud of her work on The Duchess Harris Collection, a series of 120 books for students in grades 4-12 that address issues of race, gender and class in America.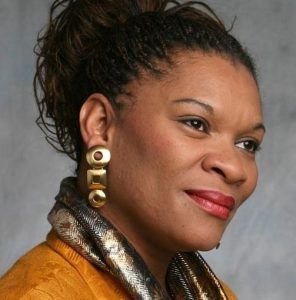 Jevetta Steele is an African American gospel music singer originally from Gary, Indiana, though she has lived in Minneapolis now for many years. Her most famous song is "Calling You" from the movie Bagdad Café and in AT&T commercials. She has recorded and toured with such legends as Prince, George Clinton, 10,000 Maniacs and of course, the gospel group The Steeles, comprised of members of her equally talented family, like her sister Jearlyn Steele, J.D, and Billy. She has also done a musical of her own: "Two Queens, One Castle."
Tickets are $10. Registration is required.
For more information, reach out to Karen Sieber at Minnesota Humanities Center at Karen@mnhum.org or 651-772-4246.